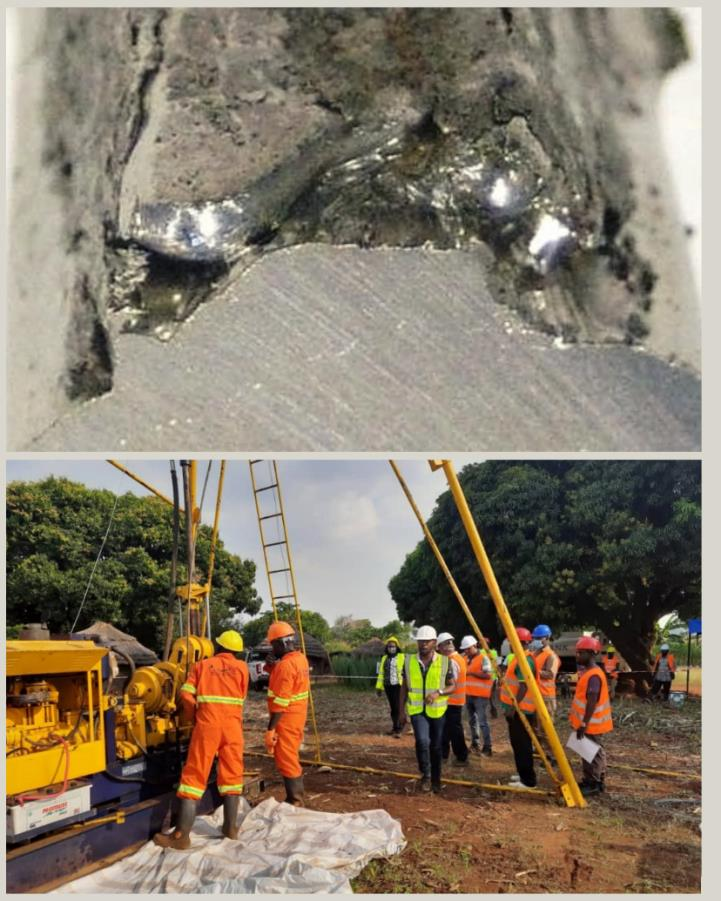 Today, the 10th of December, 2021, DGSM witnessed the commencement of exploratory drilling for Nickel mineralization by Samta Mining and Minerals Ltd in Atiak, Gulu District
SAMTA Mining and Minerals Ltd is an Indian company that has been involved in mineral exploration in Uganda for four years now, with exploration projects in Zombo and Arua in West Nile, Gulu and Amuru in Northern Uganda, Ntungamo, Mitooma, and Kyenjonjo in Western Uganda where it is following up on prospects of Nickel, Tantalise, gold, and associated base metals. The company also has exploration projects in the Democratic Republic of Congo and also recently committed to invest USD. 100 million in mining in Morocco.
In line with the Government of Uganda's efforts to promote national participation and local content, SAMTA contracted GMAT Lab, a local drilling company to drill targets in its Gulu -Atiak tenements and another, Geotech to drill targets in Zombo- Arua exploration tenements. Samta has further set up a sample preparation and test laboratory in Arua which is equipped with X-Ray Fluorescence (XRF)e spectrometer and an analytical Jena contra 800 Atomic Absorption Spectrometer (AAS) which it is using to carry out a preliminary assessment as well as complement analyses.
Nickel is a silvery white metal with a pale golden shade. It is hard, ductile and is known to be corrosion resistant. Hence can be used for plaiting iron and brass . Nickel is also used in batteries, kitchen ware, plumbing items like overhead showers, mobile phones, jewelleries, power generation and so on. Products made out Nickel are known to possess greater toughness and resistant to temperatures.
In event that Samta establishes nickel ore reserves and proceeds to mining, this implies Uganda would join countries like Phillipines, Russia, Australia and Canada in the production of Nickel. This would also imply the country would be able to secure supply of materials for industries given that industrialization is currently being pursued to create jobs and improve the standard of living of Ugandans.